More from GPS: Freedom under assault across globe…What's wrong with U.N.'s human rights council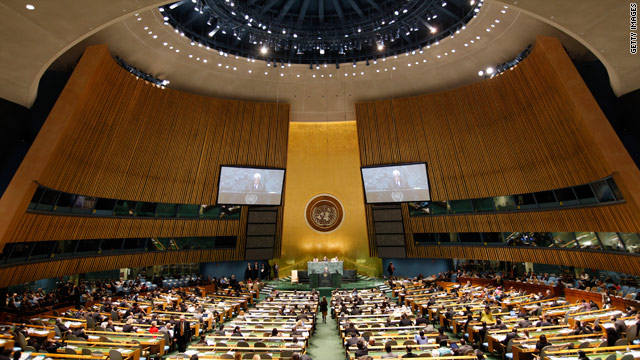 What's wrong with U.N.'s human rights council
By Hillel Neuer,
Editor's note: Hillel Neuer, an international lawyer, is the executive director of U.N. Watch, a Geneva-based NGO. The views expressed are his own.
Seven years after the United Nations promised to completely revamp its troubled human rights body, the upcoming election of notorious human rights violators underscores how the World's most needy victims continue to be let down.
On November 12, the U.N. General Assembly, operating via back-room deals and political vote-trading, is almost certain to return China, Cuba, Russia, and Saudi Arabia to the 47-nation Human Rights Council, even though these regimes systematically violate virtually every article of the Universal Declaration of Human Rights.
Other non-democracies expected to win coveted seats include Algeria, Jordan, and Vietnam. While none of the United Nations' 193 member states are blemish free, disregard for human rights are intrinsic to the very structure of the aforementioned governments.
With this in mind, a coalition of human rights groups led by U.N. Watch and the Human Rights Foundation will next week hear from some of the World's most courageous champions of human rights – blind Chinese activist Chen Guangcheng, Cuban dissident Rosa Maria Payá, Russian journalist Masha Gessen and Gulf Institute director Ali Al-Ahmed – who will urge the United states and EU to take action.
More from GPS: Freedom under assault across globe.
Also next week, the assembled rights groups will issue a detailed report evaluating all of the candidates, based on their domestic record as well as on how they are likely to use their council votes. It will make for some sobering reading, highlighting recent low points such as the failure of all of the above mentioned candidates to support a draft resolution in the General Assembly documenting the shocking human rights abuses by the Islamic Republic of Iran against women, religious minorities, and political dissidents.
Ironically, it was the abusers club phenomenon that prompted the creation of the Council, after former U.N. Secretary General Kofi Annan grew exasperated with its predecessor, the Commission on Human Rights, which had experienced a staggering decline in credibility – in 1946, the commission's founding chair was Eleanor Roosevelt; in 2003, the commission elected as chair the Libyan regime of Colonel Moammar Gadhafi.
This last move was the final straw, and forced Annan to acknowledge openly that countries had sought membership in the U.N.'s highest human rights body not to strengthen human rights, but "to protect themselves against criticism or to criticize others."
The commission, Annan said, was undermined by the "politicization of its sessions" and the "selectivity of its work." It suffered from "declining professionalism" and a "credibility deficit," all of which "cast a shadow on the reputation of the United Nations system as a whole."
Annan criticized its obsession with condemning Israel and called for a new council made up of countries with a solid record of commitment to the highest human rights standards, one that would respond to severe abuses, including through urgent sessions. Its work would be impartial and non-selective.
So, seven years later, has the new council redressed the shortcomings of its predecessor?
For the Obama administration, which joined the council in 2009, the answer could not be more clear. At the conclusion of each session, the State Department immediately issues a set of talking points entitled "Key U.S. Outcomes," describing the council as being "at the forefront of international efforts to promote and protect human rights," a "more effective and credible multilateral forum."
To be sure, thanks largely to U.S. diligence there has been positive action. Though Washington was shamefully silent when Gadhafi was elected to the new Council in 2010, one year later, during the war in Libya, they helped suspend his membership. And in the past few years, new investigations were launched into the situations in Iran, Syria, and North Korea. Administration officials, eager to justify their membership to a skeptical Congress, say all of this shows progress.
In reality, however, the exceptions prove the rule: the vast majority of the World's worst abusers continue to get a free pass. The fact is that even the old commission killed off by Annan had taken on some abusers. For example, in 2001 – the same year Human Rights Watch's Kenneth Roth compared the U.N. rights body to "a police force run in large part by suspected murderers and rapists" – resolutions were passed on several countries, including Russia and Cuba.
Yet today, Moscow and Havana are untouchable, while no Council member even tries tabling resolutions to help human rights victims in countries like Egypt, Pakistan, Saudi Arabia, Venezuela or Zimbabwe. These and other fellow perpetrators enjoy immunity, and impunity.
Defenders of the council point to its Universal Periodic Review (UPR) mechanism as a saving grace. That every country gets reviewed, even if only for one day every four years, is certainly a positive development. In practice, however, most of the reviews amount to orchestrated mutual praise. Last week, for example, China used the UPR to praise Saudi Arabia – where 53 Ethiopian Christians were arrested this year for praying in a private home – for its "religious tolerance." The next day, Saudi Arabia praised China – which has trampled the people of Tibet – for "progress" in "ethnic minority regions, at the political, cultural and educational levels."
When the U.S. joined in 2009, then-Assistant Secretary of State Esther Brimmer told the Council that it had to aspire toward "truth." It is now time for the U.S. and other U.N. stakeholders to tell the truth.
Supporters of a credible and effective Human Rights Council – be they member states, U.N. officials, or human rights NGOs – must act now to prevent the council from meeting the same fate as its discredited and now-defunct predecessor. They need to honestly address the council's strengths and weaknesses; call out abusive regimes by submitting resolutions even if they will be defeated; and expose and confront council appointees who bring the good name of the United Nations into disrepute.
The election next month of so many repressive regimes will only serve to escalate the council's credibility crisis, while complacency will only lead it down the same ignominious path as the old commission. Only if we act now, with conviction and alacrity, will the World's highest human rights body have any chance of improving on the fortunes of its predecessor – and, more importantly, helping those who for too long have had their voices stifled.
Logged in to post comment.