D-day anniversary: emotional swansong for UK veterans of Normandy
Many leaned heavily on sticks. Others were helped by younger service personnel providing an obliging arm to lean on. But many more walked unaided behind the Normandy veterans' standards to loud applause.
"Proud" was how Peter Davies, 91, from Herefordshire, one of around 100 to march, described the final farewell to Normandy and D-day on the seafront at Arromanches. "Marching was very emotional".
Davies drove on to Sword beach in a Sherman tank on D-day. "It brings it back – so many memories. It's part of your history, it's printed on your brain.
"It's great to be back here. It felt like it did when we were young. And to see all the ones who tore up the beaches 70 years ago. We're not doing much tearing up today, though," he added.
Hundreds more veterans sat in the crowd on Gold Beach, one of the five landing sites from where the course of the second World war would change 70 years ago, as the marchers stood to attention in front of the Duke and Duchess of Cambridge. Prince William described D-day as "a great and terrible day". It was vital the sacrifice "is never forgotten by our generation and generations to come", he said.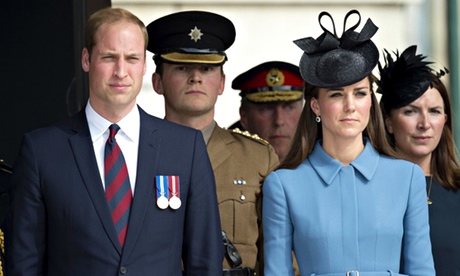 Prince William described D-day as 'a great and terrible day'. Photograph: Tim Rooke/Rex
It was a day of flypasts, and swing music, and pipe bands and loud renditions of Land of Hope of Glory and We'll Meet Again as the commemorations came to an emotional climax. But it was a day of dignified remembrance too.
This was it, the final time. Britain's Normandy veterans would never again walk in their hundreds through the white serried rows of headstones of the Bayeux war cemetery. Never again would they encircle en masse the Cross of Sacrifice, their standards dipped in respect.
Link to video: D-day anniversary: 89-year-old veteran parachutes into Normandy
The cemetery, a British shrine and last resting place for 3,935 whom age will never weary, provided a fitting backdrop to this emotive swansong.
The veterans are in their 80s and 90s now and Friday was a last rally of the blue-blazered brigade as D-day passed into history. The Normandy Veterans' Association will no longer exist from November, laying up its standard as age defeats its ranks.
Those who could, stood with pride under a fierce sun. They may be wearier of leg, more stooped of shoulder than their younger selves. But they are no less resolute. Others paid their respects from wheelchairs, bars groaning with medals hanging from their chests.
A deafening flypast – two Spitfires, a Dakota and a Lancaster bomber – brought gasps and announced the arrival of the Queen. At 88, she is of this generation and they connect with her.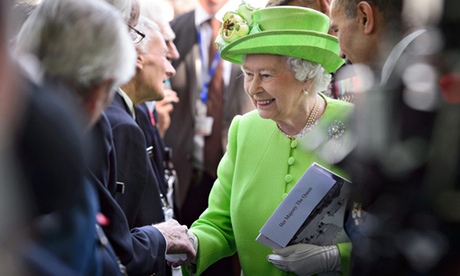 The Queen was present at the last hurrah in Bayeux, the first French town to be liberated from the Nazis. Photograph: Leon Neal/EPA
So it seemed fitting she was present at this last hurrah in Bayeux, the first French town to be liberated from the Nazis. "This is the 70th. And it's the last. We won't be back," said Roy Harding, 91, a private in 6 Commando who had travelled from Adelaide, Australia, where he moved after the war. "I've been back 12 times to Normandy. But this is the last."
In the cemetery Eddie Slater, National chairman of the Normandy Veterans' Association, read the Exhortation, "They shall not grow old, as we that are left grow old". "We will remember them," came back the chorus of elderly, but still enthusiastic, voices.
Seventy Normandy summers ago, as the ships and planes and gliders disgorged 156,000 on to beaches and into the smoke, flames and barrage of mortar fire, victory was uncertain. So was survival. No-one escaped unscathed. In his wheelchair, watching the Queen, Peter Downey, 91, from Holmfirth, West Yorkshire, who landed on Gold with the Durham Light Infantry, was "really overcome". A stroke has affected his speech, but the emotion of the day was evident in his red-rimmed eyes.
After Normandy, he was one of the first men into Belsen, the concentration camp, then found himself on guard duty during the Nuremberg trials. "He's been on sleeping tablets ever since," said Jeanne, his wife of 65 years. "Wakes up in the night thinking he is being gassed. He's not been so well recently, but he really wanted to come here. This time it's been very emotional. This time has been the hardest for him. But he wanted to come even if it is the last thing he does"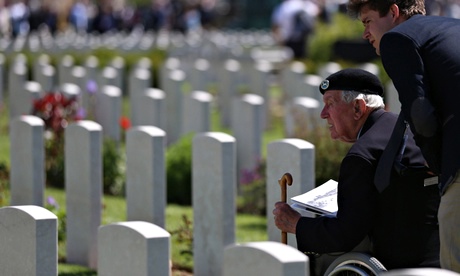 A Normandy veteran surveys headstones following a service at Bayeux cemetary during D-day 70th anniversary commemorations. Photograph: Matt Cardy/Getty Images
Before the service there were individual acts of remembrance to be paid at the graves of fallen comrades. Among those who lingered, placing small wooden crosses on headstones, was Peter Smoothy, 89, carrying two crosses. With tears in his eyes, he said: "Coming here, to this place, it always affects me straight away. My mind is always on those that never came home".
He had been asked to place the crosses by the daughter of one of those resting here. She never knew her father, who was killed on D-day on Sword beach, he said. "She was born soon after. It was something I was happy to do," said Smoothy, from Herne Bay, Kent, who served with the Royal Navy aboard LST215, one of the many landing craft used to ferry soldiers to the beach and later bring back German prisoners of war. He landed on Juno, which was stormed by Canadian troops.
"Just being here, it is very dear to me," he said, wiping away tears.
The Queen was accompanied by Prince Philip, 92, himself a veteran of the war, Prince Charles, the Duchess of Cornwall, a clutch of Commonwealth leaders and a plethora of British politicians, among them David Cameron, Nick Clegg, Labour leader Ed Miliband, and the Scottish and Northern Irish first ministers Alex Salmond and Peter Robinson.
Link to video: D-day anniversary: David Cameron pays tribute to Normandy landings
Earlier Cameron had joined a procession of veterans as they walked from the town's cathedral to this Commonwealth cemetery, led by a piper and accompanied by the cathedral's bells. The veterans were applauded by crowds lining the route, and Cameron spoke of his "sense of awe and gratitude" for what had passed so many decades ago.
Australian Michael Pirrie was here to honour his uncle Richard Pirrie, a footballer from Melbourne, who died on his 24th birthday on Juno beach. Clutching a black and white photograph of his uncle to show Australian prime minister Tony Abbott, he said the ceremony was "incredibly humbling".
His uncle, who served with the Australian navy, was credited with saving many lives on Juno beach before his was claimed by German artillery on D-day.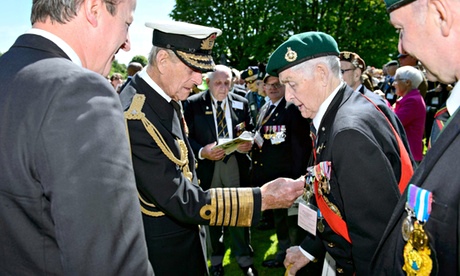 British prime minister David Cameron looks on as Prince Philip speaks to veteran Leonard Broomfield following the commemoration ceremony. Photograph: Leon Neal/Afp/Getty Images
"He was aboard the Invicta, which was a British, Canadian ship," said Pirrie, who now lives in London and is an events communications adviser who worked for Lord Coe on the London Olympics. His uncle's job in a spotter boat at the head of the invasion force was to get as close to the shore as he could to identify the Nazis on the cliffs and radio back to the ships so they could get their guns on them. "He got so close to Juno he was able to radio back great information before he was himself killed which was extremely helpful and which meant the beach had the lowest casualty rate." He was mentioned in dispatches. His body was never found.
"Just being here is an emotional experience," said Pirrie, surveying the graves. "I don't think anybody has put it as well as Bill Clinton when he said: 'We are the children of their sacrifice.'"
On Sword beach, the French president, François Hollande, told veterans and World leaders that the day should never and would never be forgotten. "The 6th of June is not a day like others, it is not just the longest day or a day to remember the dead but a day for the living to keep the promise written with the blood of the fighters, to be loyal to their sacrifice by building a World that is fairer and more human," he said.
"Those young men did not hesitate for one second. They advanced … they advanced at the risk of their own lives to combat a diabolic regime, they advanced for a noble cause, they advanced to liberate us. They were heroes. They were all heroes. The 6th June they began to liberate France. As the sun set on that longest day a light shone on enslavedEurope."
Hollande said it was an "exceptional day" of unity and the duty of memory was to all the war's victims "military, civilians, Allies and the German victims of Nazism".
In a nod to the Ukraine conflict he added that the day was a "message of peace and a requirement for a United Nations that intervenes where it's necessary for the collective security … and a Europe that has allowed peace on a continent that was at war throughout the 20th century".
The German chancellor, Angela Merkel, was among the World leaders invited, as was the newly elected Ukrainian president, Petro Poroshenko. But the warmest welcome was given to President Barack Obama and the Queen, who were greeted with loud cheers.
Logged in to post comment.